ABHIJIT
Abhijit & Omkar began practicing gymnastics at Bhoir Gymkhana, Dombivli, when they were just 3 ½ & 5 years old. Abhijit has been playing nationals since he was in 6th grade, had won several gold medals in School & Federation National Gymnastics Championships. Same has been the case for younger brother Omkar.
Initially, it was all the fun on trampoline that attracted them to go routinely for the training. But as gymnastics built concentration & activeness, it helped them in their academic career, helping them gain good grades in their early education.
Mr. Ishwar Shinde (father of Abhijit & Omkar) who was a wrestler in his younger days, had inspired then obese Abhijit to join Gymnastics. He wanted his child to lose his weight & be more active.
Being an overweight, Abhijit was discouraged by many who often taunted 'gymnastics isn't his cup of tea', but it was his Bhoir Sir who didn't lose hope on him & would always motivate him to train more hard & would supervise Abhijit's training even on holidays. Abhijit says he would be always be grateful to Bhoir Gymkhana & his Bhoir Sir for believing in him & encouraging him to perform better.
As Abhijit had participated, & won a bronze in 2006 School State Championships, his success inspired Omkar to participate in various events & championships.
In 2010, when Abhijit was in 10th grade, he won 8 medals in total, in under-17 School National Championships & Federation National Championships & also being a bright student in academics, scored 96% in SSC in the same year. Seeing these big achievements, his then gymnastics center owner, Mr. Mukund Bhoir, weighed him with Pedas (Indian sweet) in celebration & distributed around 58 kilos of Pedas among people around.
Abhijit also played at India's biggest event, National Games in 2011 at Ranchi, Jharkhand, as his team Maharashtra's captain, at a mere age of 15. Since he was at first position in selection rounds, he was chosen to be a captain, even when he was a junior & much younger to his other team-mates.
Mechanical Engineer, Abhijit is also a certified international coach, certified from FIG – International Gymnastics Federation.
In 2012,
Abhijit's dedication for Gymnastics can be seen in his one of his important life events. Even during his Board exams, he wouldn't skip his Gymnastics training. When in 2012, during his board exams of Grade 12, Junior Asian Championships were being held in Bangkok, Thailand.
On a big risk, he had participated in Jr. Asian Championships as a team captain. During in between holidays of his board exams, he travelled all alone to Bangkok at age of 16, participated in his competitions the next day & took a flight back to Mumbai the same day, & gave his last Biology paper the same morning. Having had to skip his studies for that particular time, he then too was able to score 82% in 12th Science board exams.
In 2013,
44th FIG Artistic Gymnastics World Champioships, Antwerp, Belgium was his breakthrough into Senior Competitions at an age of 18. He was chosen to represent Senior Indian Team. He secured 66th position in the world rankings.
2014,
Abhijit played Artistic Gymnastics Commonwealth Invitational Championship in Perth, Scotland, which was a Pre-Commonwealth Championship held before the Commonwealth games in Glasgow, Scotland, where Abhijit won a Bronze medal, as Indian team had secured 3rd position.
Later in 2014, Abhijit also represented India in 17th Asian Games Incheon, South Korea & FIG Artistic Gymnastics World Championships Nanning, China.
Abhijit was simultaneously pursuing mechanical engineering from the University of Mumbai.
Having had to represent India in these important contests, Abhijit had lower attendance in one of his semesters, even though he had a genuine reason, he was not allowed to sit in his 4th semester exams, following which he reappeared for exams.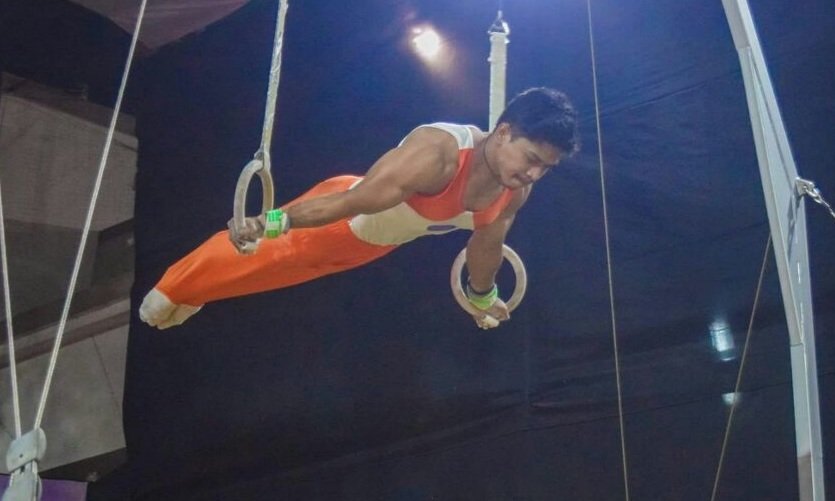 2015,
Seeing Abhijit's achievements Maharashtra State Govt., gave financial aid to support his preparations for Olympic qualifications, which helped Abhijit train in KunstturnForum, Stuttgart, Germany, which is an Olympic Training Centre of German team. This training centre is made by Spieth Gymnastics, which is a Gymnastics equipment manufacturing company from Stuttgart itself. Spieth Gymnastics has built many such Olympic training centres in other countries (SGAC, Australia; Doha, Qatar; Rio, Brazil; etc.). Their equipment are used in major international gymnastics contests like – Olympics, World Championships, Asian Games, etc. since 1965.
It is this training centre by which Abhijit came to know the importance of world-class equipment & state-of-the-art facility. With training there, Abhijit had a drastic improvement in his gymnastics performance. Coming back to India, Abhijit realized that to maintain such performance, he would need such training facility here. But as there was no such training facility available in India, Abhijit & his family decided to build a state-of-the-art gymnastics facility by their own. So, they contacted Spieth Gymnastics. The Spieth's team from India & Germany helped them in building Aakar Gymnastics from scratch, starting from minute details and measurements. Thierry Deleuze from Spieth, who has been Equipment Director at Olympics & World Championships, who also has designed many Olympic training centres across the world, visited the site in Kalyan & helped design Aakar. Aakar's foam pit is the biggest foam pit in India & is also made according to the safety requirements of Spieth Gymnastics. Aakar Gymnastics is the first Spieth Gymnastics facility in India.
2016 & 2017,
During this tenure, Abhijit focused on completing his graduation in Mechanical Engineering, & was also winning medals in National Championships.
OMKAR
After 4 years of basics training & having participated in state championships, Omkar was soon promoted to advance training of Gymnastics, much earlier than other gymnastics aspirants. He played Gymnastics Federation Nationals, 2012, & won 4 Gold medals.
2014-15
Omkar had gone on a training camp for 15 days in Australia's gymnastics Olympics training centre at Sydney Gymnastics and Aquatics Centre, Australia.
He had also participated in School Games Federation of India where he won several gold & silver medals.
2016-2017
Omkar participated in Hong Kong Artistic Gymnastics Open & Novice Championships cum International Invitation Championships (Chiu Wai Chung Cup) & won 3 bronze medals for the country.
In May 2017, he participated in India camp & was selected for 14th Junior Artistic Gymnastics, Asian Championships Bangkok, Thailand, where he secured 10th position in Still Rings.
2018
Representing Mumbai University, Omkar won silver medal in All India University Championship, which was held in Chandigarh.
2019
He represented Maharashtra in Khelo India Games, Pune, Maharashtra (under 21 Age Group), & won 3 medals – Gold, Silver & Bronze, one each. Omkar has also been pursuing BA.
Both Abhijit & Omkar were also offered to join Services, Railways & Police but they are committed to develop Aakar Gymnastics & help other young Gymnastics aspirants train in their international standard gymnastics facility & help them achieve big.